Honest opinion about using super glue, dental adhesive or dental cement from Walmart to temporary fix or repair dental crowns or caps, chipped tooth, dental bridge, loose tooth, cracked tooth, broken tooth, veneers, false teeth and dentures. Are those options safe and non-toxic, and what kind of problems you may face. Keep reading!
Can you use super glue on teeth?
In recent years due to economic crisis many people want to repair their own teeth at home with DIY solutions. The first thing that comes to their minds is to use super glue or krazy glue to fix their dental problems. While even we don't recommend doing this, technically, some of those dental problems can be fixed with super glue, but for some you shouldn't even try.



Is it safe to use super glue on teeth?
If you are worried about getting poisoned from super glue, then your worries are justified. Some glues contain methyl 2-cyanoacrylate and ethyl-2-cyanoacrylate, and if you swallow those substances you might get cyanoacrylate poisoning. Some glues are non-toxic like glue based on octyl cyanoacrylate, a cyanoacrylate ester which was developed to address toxicity concerns and to be used as a wound closure adhesive. This type of glue is not poisonous, but we still don't recommend using it on teeth because it is not designed for that kind of use.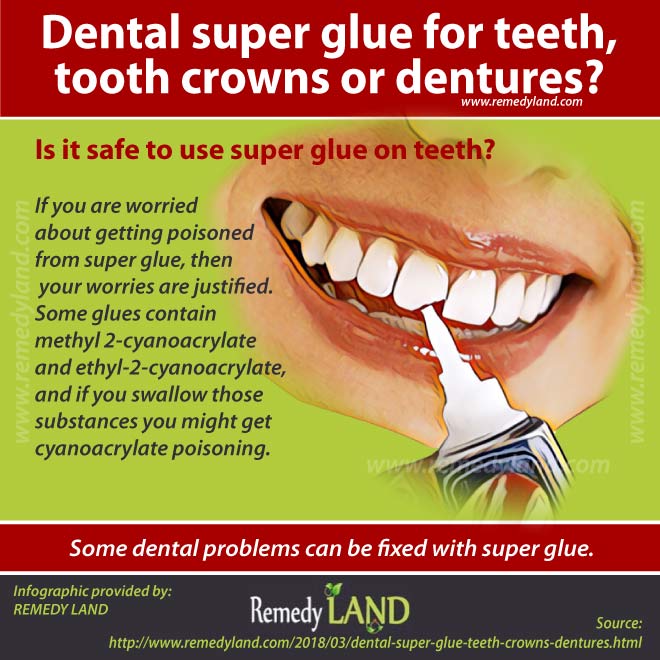 Can you use super glue for dental crowns?
Losing a tooth crown is not an unusual, a tooth cap will pop off while you are eating or brushing your teeth. Technically, it is possible to use super glue for caps as a dental crown glue but you shouldn't do that because of fallowing reasons. Firstly, super glue isn't made to be used in a moist environment and surface of the tooth is also very porous and not suitable for gluing. Secondly, when you remove residues of dental cement from inside of tooth cap, and glue it back on tooth, there is a big chance that tooth crown isn't going to set properly no matter how much glue you've used. Thirdly, the super glue can enter into the tubules of the tooth and cause dental crown pain and further complications, and you will end up with major dental work instead of simple dental procedure.
What about dental cement for crowns (caps) from local Walmart?
This is the most "professional" DIY dental solution so far. It can be used to fix loose tooth cap. Just fallow correct set of instructions, clean inside of the crown and use appropriate amount of dental cement. Keep in mind, this is just temporary solution and you should visit your dentist to fix it properly because even a small displacement of crown can cause enormous pressure on your tooth.



Can you fix broken tooth with super glue?
Teeth are astonishing strong but they can break due to random accident or neglectful dental care. Your tooth is not beyond repair, but you cannot use glue to fix a broken tooth because it's not going to hold and it can be toxic. If you have a broken tooth and don't have money, don't use super glue to fix your teeth, you are better off with a broken one.
Can you glue a chipped tooth back?
Chipped tooth is very common in adults and can occur for a number of reasons. If you have a chipped tooth, try to fix it as soon as you can because it can cause further problems. It might seem tempting to glue a chipped tooth back but this is not even a temporary solution because it's going break off with a slightest pressure and super glue can cause further complications.
Can you super glue a loose tooth?
If you are suffering from a loose tooth as an adult, dental care is required to save it. Don't you even try to glue it in any way, this is not a way to save a loose tooth. There is a big chance that even a dentist can't save loose tooth, by gluing it you are only going to worsen situation. Don't do it.
Can you temporarily glue veneer back on tooth?
If one of your porcelain veneers is came off and you think that you look silly and you don't have time to visit your regular dentist, you should see an emergency dentist. Let's assume that you have enough money to do this minor dental procedure because you already spent considerable amount of money to have those porcelain veneers, don't be silly and try to glue veneer back on tooth by yourself.
Can you glue a dental bridge?
A dental bridge is secured via a crown on adjoining or abutment tooth and sometimes it can break. When this happens, don't try to repair dental bridge with super glue, because this is not possible. Maybe you can use a denture repair kit from a local store but there is a big chance it is not going to hold and if it is done improperly it can harm adjoining and abutment tooth.
Is there any false teeth glue?
There is no false teeth glue and we do not advise to use super glue for your false teeth. You can find some denture repair kits on market but we don't advise to use them either. There are too much complications that can be caused by improperly done dental work.



Can you repair dentures with superglue?
Broken denture is not an uncommon occurrence. Many people are trying to figure out how to fix a broken denture by themselves. The first thing that comes to their mind is super glue. While it is technically possible to fix broken denture with super glue or some other denture repair kit, depending on type of breakage it can be a sloppily solution. Keep in mind also that some super glues can be poisonous.
Can you glue a filling back in?
Sometimes dental fillings loosen and fall out and this can be dental emergency because exposed tooth is often sensitive and if left untreated can cause tooth decay. Do not attempt to glue a filling back in by no means because it can cause tooth infection, toothache … and many other dental problems. It is even better to left it untreated then to glue a filling back in. Don't do it.