What is onychauxis? (definition)
Onychauxis is a nail condition that presents thickened nails without structural deformity. It is also known as nail hypertrophy or hypertrophic nails. Onychauxis is more prevalent in the elderly people and can occur in either, toenails or fingernails.
Onychauxis symptoms
Nail hypertrophy is obviously characterized by an abnormal thickening of the nail plate. Hypertrophic nails lose their translucency and become discolored, usually white or yellow. If left untreated and untrimmed nails could become curled and start to break apart when nail edges start to crumble.



Onychauxis causes
Cases of hypertrophic nails are sometimes hereditary, but usually consequences of blunt trauma or large number of micro injuries. Onychauxis can also be induced by serious health issues that affect the nail bed.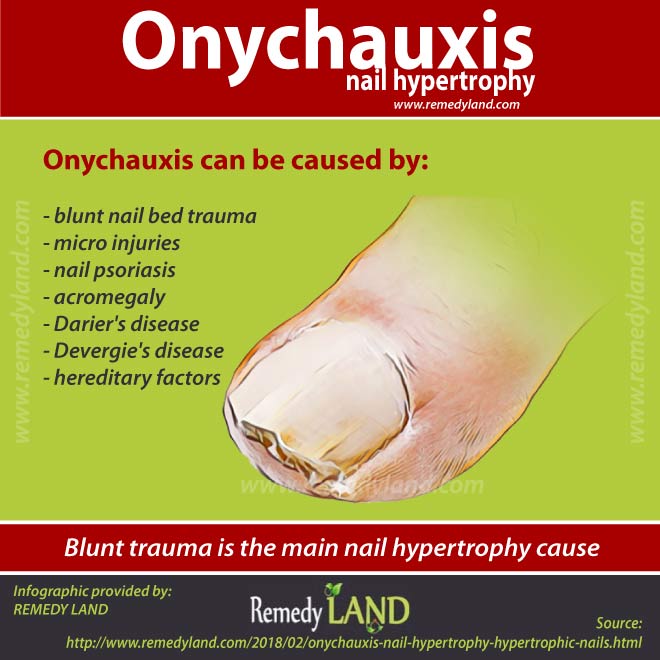 Onychauxis can be caused by:
blunt nail bed trauma
micro injuries
nail psoriasis
acromegaly
Darier's disease
Devergie's disease
hereditary factors
Blunt trauma is the main nail hypertrophy cause
Nail bed injuries are common cause of onychauxis. If sufficient blunt force is applied to the fingertip or nail, it can breach the structural integrity of the nail bed and cause various nail conditions including hypertrophic nails. If left untreated, those nail bed injuries can have negative functional and cosmetic outcomes.
Thick toenails caused by ill-fitting shoes
People wear tight footwear and bump their toes all the time. This repetition of micro injuries causes the nail to thicken because your nail is trying to protect itself. Onychauxis can be confused with nail fungus because they both can cause tick nails and nail discoloration.



Nail psoriasis can cause onychauxis
People who develop chronic condition known as nail psoriasis are going to experience abnormalities in their nails. One of the prominent symptoms of nail psoriasis is nail hypertrophy. Other symptoms are nail separation, nail pain and itchy skin around nails.
Very thick nails can be caused by acromegaly
Acromegaly is a very rare condition that results from excess growth hormone, caused by a tumor of the small gland in the brain known as pituitary gland. Besides onychauxis, people with acromegaly have enlarged facial features and extremities, thickened skin and muscle weakness.
Darier's disease can cause hypertrophic nails
Most patients with Darier's disease, an autosomal dominantly inherited genodermatosis, have nail abnormalities such as yellow thick nails. Those patients might also have longitudinal broad red and white streaks and irregular texture on some or all fingernails.
Thick yellow nails caused by Devergie's disease
One complications arising out of Devergie's disease, a rare group of hyperkeratotic, papulosquamous disease, is nail hypertrophy. Besides onychauxis, patient may experience thickening of the palms and soles, reddish-orange colored scaling patches of skin and on nails the splinter haemorrhages may show.



Onychauxis treatments
Nail hypertrophy is not a dangerous condition, but it is unpleasant to look at and embarrassing. Depending on the cause, hypertrophic nails can be treated. Managing or curing underlying health condition causing hypertrophic nails is the first and best solution.
Change poor fitting shoes
If patient have thick nails due to poorly designed shoes that doesn't fit properly, logical treatment is changing to more spacious and better designed footwear. Patients must take into account that feet can change in shape and size over time or due to foot shape he may need custom fit footwear.
Trim your nails properly
Trimming your nails regularly and properly is very important and can mitigate a lot of painful accidents that can cause onychauxis. Use the proper tool to cut your nail and you don't need to visit a professional to take care of your nails. People with diabetes are an exception, they need to have perfectly trimmed nails.